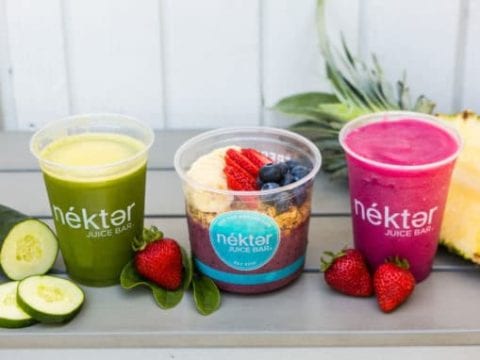 Right now, it's a tough time to be a fan of the clean eating movement. Due to shortages and supply chain issues caused by the COVID-19 crisis, it's harder than usual to find fresh organic produce at the moment- and even if you are able to source some, it may be difficult to get to the grocery store to buy it, and even harder to store it so it stays fresh. Ironically, at a time when it's more important than ever to stay well and keep our immune systems in tip-top shape, it's also increasingly frustrating to find the healthy whole ingredients that are necessary to provide us with an extra little immunity boost! 
That's what Nékter is here for- in the midst of COVID-19, we've had to temporarily close down the laid-back, tranquil seating areas our juice franchise is known for, but we're still 100% able to deliver the delicious cold-pressed juices, smoothies, and acaí bowls that put us on the map in the first place! As a healthy food franchise that operates within the foodservice industry, we're one of the precious few businesses that do well in a recession. Even in these extraordinary circumstances, we have been deemed an essential business and are allowed to remain open for carryout and delivery during this time. Our Franchise Owners are still dedicated to providing the people in their community with fresh, all-natural, locally-sourced ingredients to help keep their fitness goals on track while all this is going on.
Here's how our juice franchise locations are keeping their communities healthy during COVID-19.
"Take It And Make It" Smoothies Bring Our Juice Franchise to Your Kitchen!
What's better than that first taste of a handcrafted, all-natural smoothie from Nékter? Not much, we'll admit. But how about the satisfaction you'll feel when you take that first sip knowing you prepared it yourself? That's right- in an effort to help our fans stay well and continue enjoying our offerings, we've just rolled out Take It and Make It smoothies! These made-to-order, pre-portioned ingredient packs are just frozen versions of the Nékter smoothies you know and love.
Not only are Take It and Make It smoothies ready to blend right in the comfort of your kitchen, but they offer a level of ease and convenience our customers never imagined they'd be able to replicate at home. Customers can choose from four of our most popular smoothie flavors -Tropical Cooler, Berry Banana Burst, Pink Flamingo, and Mango Delight- and practice some safe social distancing through home blending with the base liquid of your choice, all while enjoying the satisfaction that comes with knowing you prepared a clean, healthy meal or snack on your own…sort of. It's just one of the ways we're letting our fans know we're still here for them, even when they can't stop into their local Nékter Juice Bar every day (or multiple times a day, as some fans are known to do!)
Take It and Make It smoothies are available now on the Nékter app and at participating locations nationwide. Customers can purchase one 16 oz. smoothie kit for $5.50 or pick up a pack of four for $20. And hey, if you get really good at blending your own smoothies while you're stuck at home, come see us for a job once this is all over!
The Nékter Cleanse
We're all stuck at home with no dinners out, parties, or plans for the foreseeable future…has there ever been a better time to go on a cleanse? People who are using their quarantine time to work on their health and fitness goals will appreciate the jumpstart that the Nékter cleanse offers.
Our 6-bottle cleanses are all on sale right now for just $29.95! Customers can choose from our Classic Detox or our Celery Detox and get started on the road to wellness with a one-day cleanse. 2-day, 3-day, and 5-day cleanses are also available. Best of all, there's no need to leave the house- Nékter fans can order our cleanse online and have it shipped straight to their door- no contact necessary. Whether you are motivated to work on your summer bod or you just want to embrace clean eating, it's a good time to start now, while there are literally no common roadblocks or temptations to get in the way of your wellness goals!
Online and Mobile Ordering, Carryout, and Delivery From Nékter Juice Franchise Locations
We've offered online ordering through our website and mobile app for quite some time now, but the situation we're currently in makes minimizing contact a necessity. Customers can log into our online ordering platform or use the Nékter Loyalty App to place an order at their local Nékter Juice Bar and then pick it up or choose our Delivery option to have your Nékter order materialize right at your doorstep, courtesy of a contact-free dropoff from one of our delivery service partners! For our Franchise Owners, this means having another way to connect with their local fans and stay open for business while making sure everyone stays safe.
Good News For Existing (and Future) Franchise Owners
If you own a Nékter Juice Bar, or you've always kind of wanted to own one, you'll want to read this next part. Franchises that operate in the health and wellness industries, including juice bars, are historically businesses that do well in a recession. We know it's kind of a weird time in human history all the way around right now, but these encouraging statistics have us feeling optimistic about the future of the smoothie and juice franchise industry!
Nékter's mission has always been to help our customers achieve better living through wellness, and now more than ever, it is important to us that our fans, staff members, and Franchise Owners all stay healthy. We won't stop coming up with new and creative ways to ensure that our fans are living the Nékter life even when we can't see each other face-to-face.
We're looking forward to the day that we can welcome our customers back into our relaxing seating areas and watch the reunions unfold between BFFs, CrossFit buddies, yoga moms, and anyone else who wants to socialize over a healthy juice or smoothie. Until then, count on us to keep things cranking behind the juice bar and serving that healthful, all-natural Nékter goodness. We've got this.
Want to give your community the chance to live the Nékter life? Learn more about our franchise opportunities here.
Need more Nékter in your news feed? Like us on Facebook. Follow us on Instagram. Connect with us via LinkedIn. Subscribe to our YouTube channel.