Even though our smoothie and juice bar franchise locations have had to change up their processes a bit over the past couple of months to comply with COVID 19 stay-at-home orders, social distancing guidelines and more, Nékter Juice Bar is still delivering on our commitment to providing customers with the best in wellness and clean eating through our all-natural juices, smoothies, and acaí bowls. Here's what's new with Nékter Juice Bar this month!
Nékter Juice Bar in Sacramento, CA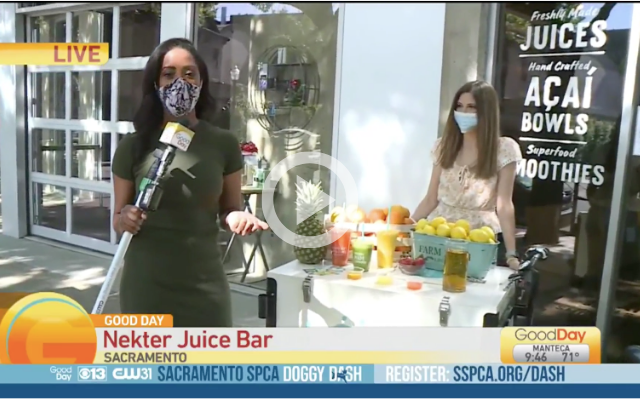 Our Nekter Juice Bar location in Sacramento, California is featured on TV – Check it out! It's been a different couple of months, and we've had to make some adjustments to adapt to the "new normal," but our determination to bring fresh, healthy choices to people everywhere hasn't changed one bit. Our Franchise Owners are still doing brisk business via delivery, curbside pickup, and, in the case of Sacramento Franchise Owner Kimberly Prince, our mobile Nékter bicycle cart! Kimberly, who owns the midtown Sacramento Nékter Juice Bar location, was able to promote our juice franchise on a TV segment on local lifestyle program Good Day Sacramento that aired a few days prior to Mother's Day. You can watch the whole clip here.
In the segment, Kimberly talks about some of our latest smoothie, juice, and acaí bowl offerings, as well as our all-new immunity shots designed to provide a much-needed boost to our bodies' immune systems! Wearing a mask and gloves, as well as practicing social distancing with TV presenter Ashley Williams, Kimberly detailed the number of delicious ways Nékter fans can stay healthy and eat well by visiting Nékter for curbside pickup or ordering delivery, and also announced a special smoothie offer for Mother's Day!
New Nekter Franchise Owners in Texas
We've got a lot to celebrate this spring as not one, not two, but THREE new Nékter Juice Bar Franchise Owners open their doors! The Houston, Texas suburb of Katy got to experience its first taste of our juice franchise when our new location opened there on March 11. Despite currently being unable to allow in-store dining, residents of Katy are enjoying our handcrafted cold-pressed juices, smoothies, and acaí bowls via curbside pickup or delivery through UberEATS. The new Katy location joins four other Nékter Juice Bar franchises in the Greater Houston area, adding a level of convenience to our already-established network of fans in the city. Considered a "hot market" for Nékter Juice Bar franchises, we're looking to add even more Houston-area locations to our roster by next year!
Nékter Juice Bar Locations in Frisco, TX
In other store-opening news, another Texas city has just received its first taste of the Nékter Life! Frisco, a suburb of Dallas-Ft. Worth, opened its all-new Main Street location on April 30. This is the second Nekter Frisco, TX location, not to mention one of 9 Nékter Juice Bar locations in the DFW area- an indication that we're gaining a strong presence and serious traction as a fan-favorite juice franchise in the Lone Star State.
Franchise Owners Open Nékter Colorado Springs
In Colorado Springs, Colorado, Franchise Owners Nick and Lilli Green just opened their first Nékter Juice Bar location in the popular Academy Shops shopping center. This is the first location of our juice franchise in Colorado Springs, and the 169th Nékter Juice Bar location in the United States- that's something to celebrate!  Home of the United States Air Force Academy, as well as one of the four University of Colorado campuses in the state, Colorado Springs is a great market for a healthy juice franchise like Nékter to make its mark among wellness-minded individuals. We wish the Greens the best of success in their new location!
As stay-at-home orders expire and restrictions are gradually lifted in cities throughout America, staying healthy and building immunities will be of utmost importance to people everywhere. One of the top ways to increase the potential for good health is to eat right. Thanks to the healthy, fresh choices available at Nékter Juice Bar locations across the country, people don't have to go far to find delicious, all-natural options that satisfy their hunger and promote wellness at the same time! We anticipate that our juice franchise will attract a whole new crop of devoted fans who are ready to live the Nékter life as they seek out ways to get in shape and stay healthy. We're excited about what the future brings, and look forward to sharing our message of health, happiness, and harmony with our fans as we expand to new territories!
Interested in owning a Nékter Juice Bar franchise? Visit our website to learn more.
Need more Nékter in your news feed? Like us on Facebook. Follow us on Instagram. Connect with us via LinkedIn. Subscribe to our YouTube channel.