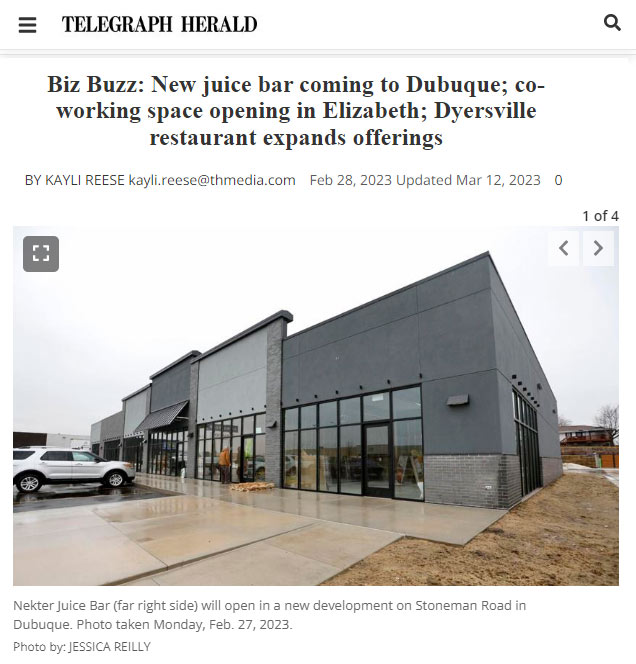 Thanks to Telegraph Herald for covering one of our newest locations coming to Dubuque, Iowa and opening within the next 30 days! Here's a snippet from the article:
"A new juice bar is coming to a newly-constructed commercial building in Dubuque this spring.
Nekter Juice Bar will open in a suite within the new building at 3415 Stoneman Road, near Kennedy Mall. Owner Nikki Mulligan said the juice bar will go into the 1,800-square-foot suite closest to Green State Credit Union and is expected to open in May.
"The idea behind Nekter is this idea of helping our community really just embrace and optimize their overall health and wellness," Mulligan said. "We have a fresh, natural menu. It's about feeding our bodies essential vitamins and nutrients we need, and we're bringing something that people have a hard time finding in Dubuque."
Photo by Nicholas Vassios on Unsplash
Why are we excited about franchising in Iowa?
Iowa, located in the heartland of the United States, is a great location for entrepreneurs looking to start a franchise business. Des Moines, the state's the capital and largest city of Iowa, offers a wide range of business opportunities for entrepreneurs because of its growing economy. The city has a diverse economy with a range of industries including healthcare, insurance, and finance, providing a stable foundation for businesses to grow and thrive.
Another advantage of investing in a franchise in Iowa is the state's strong workforce. Des Moines, Dubuque, and Iowa city are home to a highly educated workforce with a strong work ethic, making it easier to find qualified and motivated franchise employees.
Additionally, the cost of living is lower than many other major cities, allowing businesses to operate with lower overhead costs. This makes it an affordable and attractive location for entrepreneurs to start and grow their business.
Overall, Iowa is a great location for entrepreneurs looking to start a new business or invest in a franchise. Its strong economy, skilled workforce, vibrant downtown area, and affordable cost of living make it a great choice for businesses looking to grow and succeed.